The Enamel Shop.com
UK Agents for Uhlig Enamelling Kilns
Tools & Accessories for Enamelling

Shown below are a selection of tools and accessories we supply for enamelling.
T.4 Firing Fork
General purpose firing fork for insertion and removal of all items from kiln. Will fit under all meshes and most stilts for easy access, allowing stable and balanced use at all times
T.5 Scrolling Tool
Used for all scrolling techniques. Fine point allowing delicate movement through heated enamel and wooden handle gives comfortable, balanced grip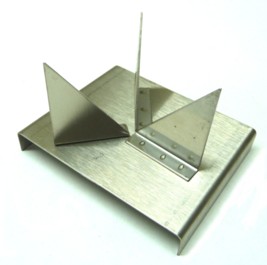 T.2 Stilt
3 sided stilt 90 x 90mm. Pre-formed stilt for counter enamelling metels between the sizes of 12.7mm to 63.5mm. Supports itself in the kiln, fits all kiln models and is ideal for sturdy balancing when scrolling

T.41 Stilt
3 sided stilt 78 x65mm. Steep 3 sided stilt for counter enamelling of large irregular shapes. Fits kiln models U15, U24, U42, U82

T.3 Twin Stilt
Twin stilt 75 x 60mm. Ideal stilt for all the novelty copper shapes when counter enamelling. Fits all kiln models. Twin stilt allowing two shapes to be fired at the same time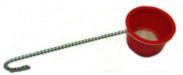 T.1 Mesh Support
70 x 80 mm Mesh size suits all kiln models. Pre-shaped mesh for firing all items.

T.9a Small Sieve & T.9b Medium Sieves
Hard plastic sieve with metal mesh and handle. T.9a sieve 12.7mm & T.9b medium sieve 25.4mm Diameter for precise application of enamel allowing for both very small & larger areas to be dusted.

T.7 Palette Knife
Ideal flexible bladed palette knife with wooden handle for lifting all items,after applying and placing carefully onto stilits and meshes. Has rounded tip for safety.

T.6 Tweezers
Suitable stainless steel tweezers for sorting, applying and designing various techniques. Flat tips allow for use with all decoration media.

T.21 Enamel Shovel
Ideal for applying enamels in wet form. Has scoop to transfer enamel to any area.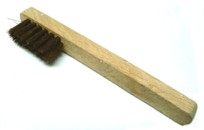 1402 Wire Brush

155mm. Wire brush for cleaning. Hand held for comfortable use.

T.11 Fine, T.12 Medium/ T.13 Coarse Abrasive Sponge
FINE: For easy, quick degreasing of metals, where cleaning requires unscratched surface.

MEDIUM: Between Fine and Coarse used as an all purpose cleaner.
COARSE: When rough cleaning is required. Will degrease meatal in seconds and even remove fired on oxide from the edges of metal

T.17 Tramil Gum
(Gum Tragacanth -50 ml Liquid solution of gum tragacanth used for adhering enamels wires and decoration media to either a flat or a vertical surface. Will burn out during firing leaving no marks, making it suitable for use with both transparent and opaque colours. Short drying time required, apply with a brush.

0195 Heat Resistance Gloves

Very comfortable, soft heat resistant gloves to ensure total protection when handling hot objects or firing at high temperatures. Allows for finger movement thus not restricting movement.

Shaker Pots

50gm and 200gm sizes. Clear plastic screw top pots with fine grade sieve incorporated into screw top.

All rights reserved The Enamel Shop 2010

The Enamel Shop Established 1976

NEW ITEM!
T.30 Stilt
  130mm x 80mm
Ideal for firing up to eight pieces in one go.Will fit all our novelty copper shapes and any other size up to 35mm Dia. Self supporting with the firing fork

fitting comfortable under stilt for insertion and removal from kiln.
Solid steel construction that will not buckle
and will last for years!
Will fit all kiln models within our range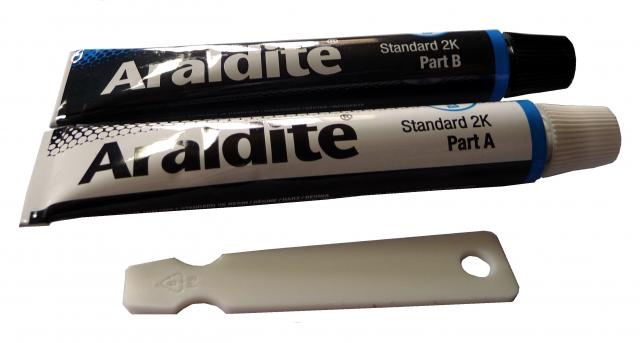 Araldite Standard Epoxy Resin Adhesive

2x15ml tube is a strong, solvent free adhesive suitable for all materials and ideal for durable bonding & repairs. Perfect for complicated jobs which require adjustment thanks to a long working time.Bonds metal, wood, ceramic, glass and most plastics. 2 component epoxy with long working time. Parts repositionable for 80 minutes. Oil, chemical and impact resistant. High temperature resistance(-30C to650C). Ideal for all jewellery making with a clear finish when set.
Simply mix equal measures from each tube and apply to surface to be bonded.

NEW ITEM!



T.1a Mesh Support
120 x 60 mm Mesh size suits all kiln models. Pre-shaped mesh for firing all items.

T.28  (4 Piece Stilt )95 x 75 mm. Ideal stilt for all the novelty copper shapes when counter enamelling. Fits all kiln models. Multi stilt allowing four shapes to be fired at the same time